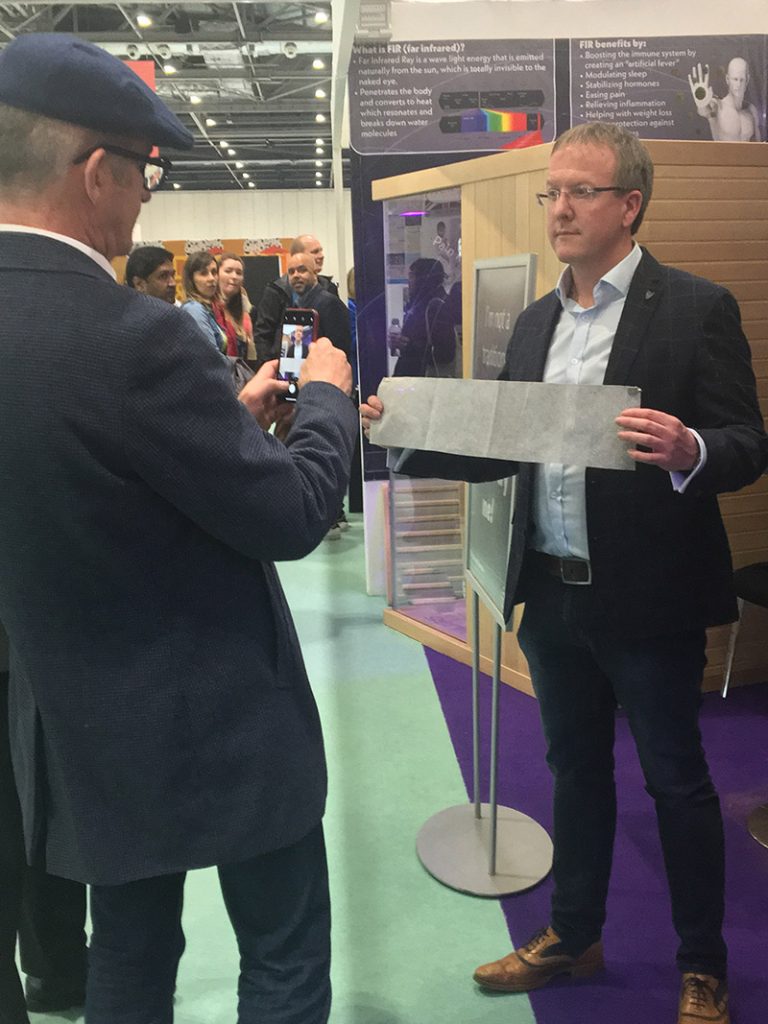 Grand Designs Award for Innovation 2019
The inevitable recognition of ASTECtherm's groundbreaking and environmentally conscious approach to heating structures was realized. Galvin, our Managing Director, received an esteemed invitation from the Director of Grand Designs Magazine to accept the prestigious Innovation award.
Upon his arrival at the Excel venue in London, Galvin was warmly welcomed by the Grand Designs Magazine team, acting as messengers for Kevin McCloud's keen interest in delving into the extraordinary capabilities of the heating fleece. In the course of their conversation, Kevin delved into diverse potential applications of ASTECtherm within future home heating solutions. His genuine amazement was evident as he not only requested to retain the sample Galvin had brought but also expressed his intention to feature it prominently at a significant European convention.
In due course, Galvin was bestowed with the distinguished innovation award, garnering the attention of both construction professionals and individuals alike, all of whom were captivated by the exceptional heating attributes ASTECtherm has to offer.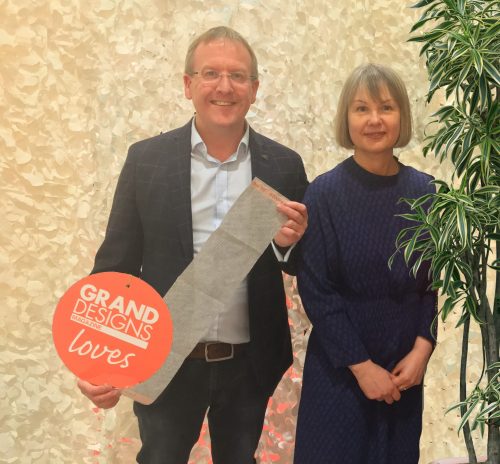 Since its inception in 2013, ASTECtherm has consistently and innovatively steered the course of Infrared Heating Technology. This remarkable journey has not only revolutionised the industry but also played a crucial role in environmental conservation and economic efficiency, resulting in remarkable cost savings for our esteemed clientele.
Over the past decade, ASTECtherm has remained at the forefront of advancing Infrared Heating Technology, bringing about remarkable changes in the way we approach heating and energy consumption. Through our pioneering efforts, we have significantly reduced carbon emissions, making a significant contribution to global sustainability objectives.
Our commitment to sustainability isn't just about reducing carbon emissions; it's also about delivering tangible benefits to our customers. By harnessing the power of Infrared Heating Technology, we've not only reduced environmental impact but also allowed our clients to experience substantial cost savings. This isn't just a technological advancement; it's a practical solution that positively impacts your bottom line.
We extend an open invitation to you to join us on this groundbreaking journey towards a more sustainable future. By incorporating ASTECtherm's cutting-edge Infrared Heating Technology into your operations, you can take a giant leap towards a greener and more efficient future. Together, we can redefine the way we use energy and set a new standard for sustainable practices in your industry.
So, come and be a part of this transformation, where innovation, sustainability, and cost savings converge to shape a brighter and more eco-friendly future for all of us. Embrace ASTECtherm, and let's pave the way for a world where technology doesn't just solve problems; it revolutionises industries and benefits the planet.